Bunk beds—great for kids and parents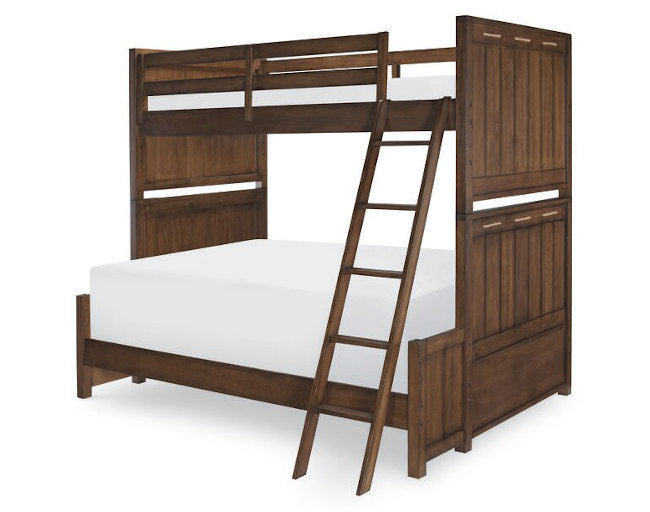 Save Space | Help Your Children Bond | Create a Fun Environment
Your children are growing and you're looking for ways to more efficiently use the space in their bedrooms and in your house. Why not look at a bunk bed from Kids Bedroom Gallery! Bunk beds offer value and convenience for parents, and are always a big hit with kids, providing them with endless ways to use their imagination.
At Kids Bedroom Gallery, we offer a huge selection of styles and colors, with a wide array of extra features. In addition to the tradition "twin over twin" bunks, we also offer "twin over full" and "full over full" bunk beds. Popular options include built-in storage, steps, a wide range of ladders or even a slide.
The obvious benefit of a bunk is that it lets you put two beds on the footprint of one, opening up all that floor space for play and/or study areas. There are many other reasons, though, that you and your children will love having bunk beds:
Bunk beds can build stronger relationships between your children—The more time your children spend together, the closer they'll be…usually for a lifetime.
Bunk beds can eliminate the need for dressers or similar furniture—Many bunks come with built-in drawers, offering plenty of room for all your child's stuff.
Bunk beds are fun for kids—Bunks make sleepovers with friends easy. They alsolet your children engage in creative play. Pull the blanket down from the top bunk and create a fort! Turn the bunks into a double-decker bus or a pirate ship, with the brig down below! Have a campout in the house!
Bunk beds are flexible—If you add a room or move to a new house, you can take the bunks apart and have an attractive and functional single bed.
Come to the Kids Bedroom Gallery Today!
To learn more about our extensive selection of bunk beds, as well as the many options we offer, take a virtual tour of our two-story showroom in East Brunswick, New Jersey or come and visit us in person. You can also call us at 732-210-4811 and ask us any questions about our bunk beds, or even place an order. We welcome parents from across New Jersey and throughout the New York City metropolitan area.
|
Posted on March 27 2023